Reservations for Party Times
Please call 1-530-894-2323 during store hours to book your Party. Times are limited and must be reserved in advance. A nonrefundable Party Deposit is required to reserve your date, time and a Beadworks Party Hostess.
Party # 1 (Birthday)
$50.00 plus $5.00 per person 12 max.
We supply a Focal Bead and accent beads for each, plus a tube of pony beads. 2 hours
Party #2 (Class)
Call for cost of the class per person - Minimum 3 people
2 hours — Supplies NOT included
Party # 3 (After Hours)
Call for fee schedule!
The Store is yours for 3 hours. Great for showers and group parties. Supplies Not included.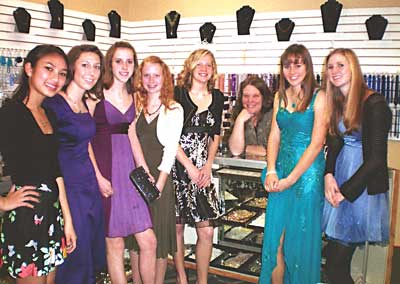 Need a reason to have a party?
It's Your Birthday
Moms' Getaway
Ladies' Night Out
Team Beading and Bonding
Bridesmaids' Beading Shower
Office Party
Pre-Prom Perfect Pieces
Sorority Stringing
Designing Women Nights
Mother/Daughter Creativity
Due to limited time we suggest that Birthday parties and Class parties consider purchasing refreshments at Round Table Pizza here in the Mall. During nice weather you may also consider setting up your food and drinks around the fountain. This will save you time for beading.